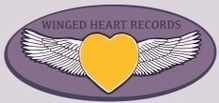 Winged Heart records ....
is the heart-child of Dave Balen, and is a non commercially-driven enterprise.
Why Winged Heart?
In 1968,  I got back from a year on the road to India, and soon I became friends with the talented singer-songwriter Lesley Duncan https://www.katebushencyclopedia.com/duncan-lesley.  
Lesley lent me various books on spiritual philosophy, the first of which was that influential book on Music and Healing by the Sufi Saint and teacher Hazrat Inayat Khan.  
His Sufi symbol of the winged heart immediately struck a chord with me and I have used my version of it in signatures and communications ever since.  
Hopefully it speaks for itself and needs no explanation from me!