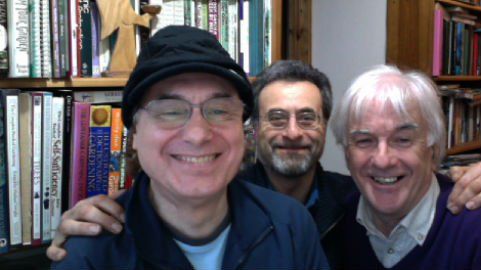 MEDICINE DANCE - REMASTERED AND REISSUED - COMING IN 2021!
Previously issued in 1992 this journey into the world of the Medicine Animal myths of Red Indian Culture was a very popular disc- a top seller on New World Records - core personnel were: Jim McCarty, Louie Cennamo, Dave Balen and Dugald Brown, with Danny Langsman playing a sax solo on "Snake". I helped facilitate the sessions by putting everyone up at my then home and we recorded the album in my first studio in Malvern called Bridge Studios in a couple of weeks.  I also contributed groove ideas and atmosphere textures.  Jim composed most of it with important input from Louie everyone else also contributed in various ways.
Winged Heart are re-releasing this later this year with the blessing of Jim,Louie and Malcolm with the consent also of New World. The new package will have updated CD notes and a remastered sound.
Flavoured more with Shamanic Influence, Live instruments and Blues than the typical "New Age" synthesiser dominated sounds! It has been used in workshops to help create atmospheres.
Originally styled as a musical dance journey in the Shamanic tradition of the native American people and their insight into the power and magic of the animal archetypes, it took inspiration from the Medicine Cards by Jamie Sams and David Carson originally.  Carmen Willcox and Malcolm Stern had the idea to develop this into a music project.  Malcolm worked with Stairway on this and they did some concerts with Malcolm talking about each power animal.  He was also present at the recording sessions and contributed to the vibes and production.
Stairway was a project/group consisiting of Jim and Louie and they produced other popular and well received discs such as Moonstone, Aquamarine, Songs of the Heart, Chakra Dance and Raindreaming.