Dave Balen brief potted history & Discography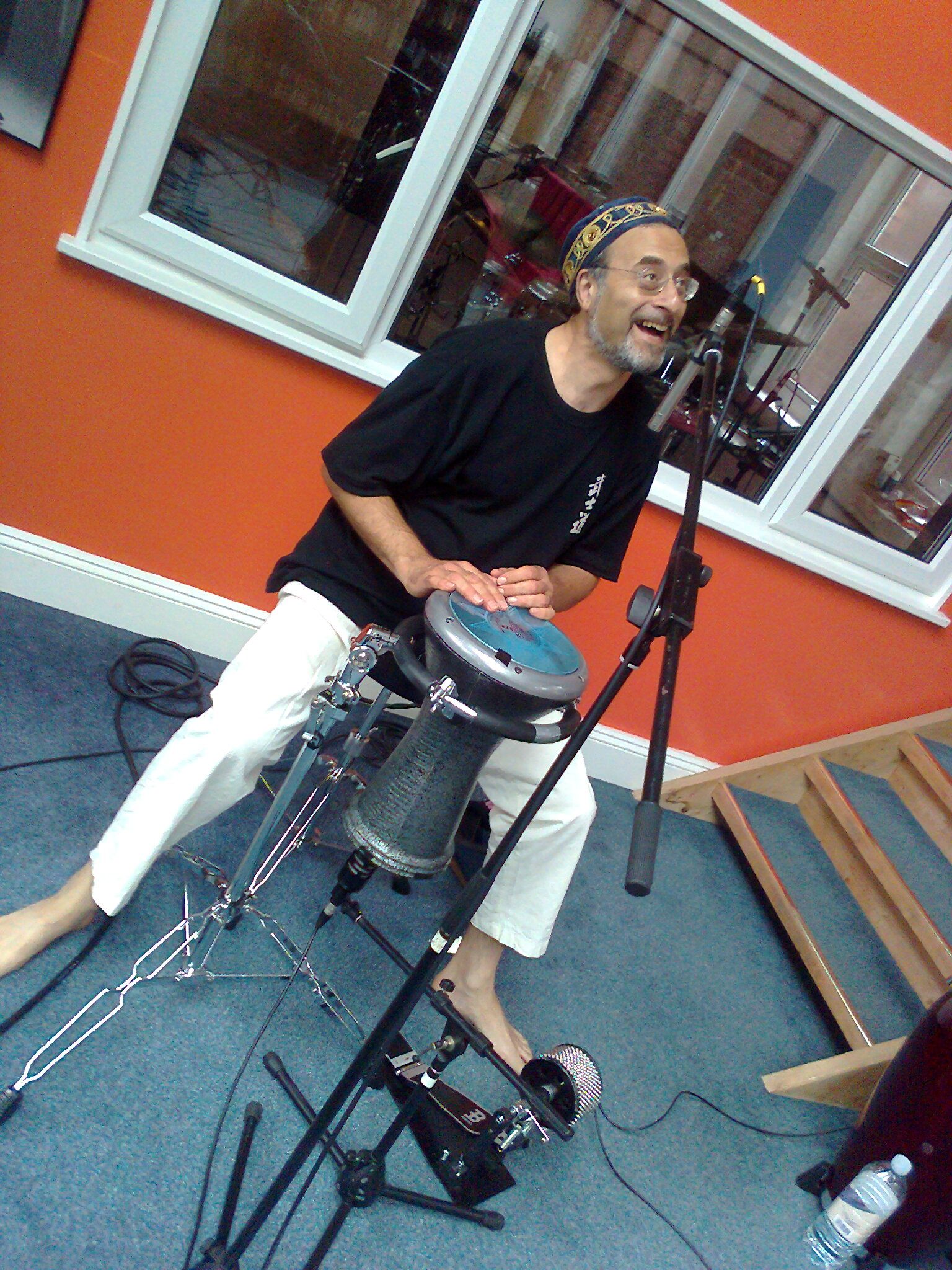 Everyone has their story..
So here is mine ....specifically about the golden thread of music weaving through my life from then to now! 
BEGINNINGS
Music has been a core part of me since I can remember- a soundtrack marking the unfolding cycles in my life- providing solace, joy, healing and inspiration.  Music has also enabled me to express my thoughts and feelings, optimism and uncertainty.  My new CD "Moments in Time" out in 2021 will be my "coming out" at long last as an instigator of my own compositions and production, rather than being a co-creator in improvisation or an accompanist and supporter of others' music.
I grew up with music in the house, as my dad Harry Balen was a well respected professional violinist and the house always had musicians dropping by from time to time or on the phone. I absorbed the Musicians' often offbeat sense of humour and irony was subconsciously percolating my mind and influencing my world view and still does!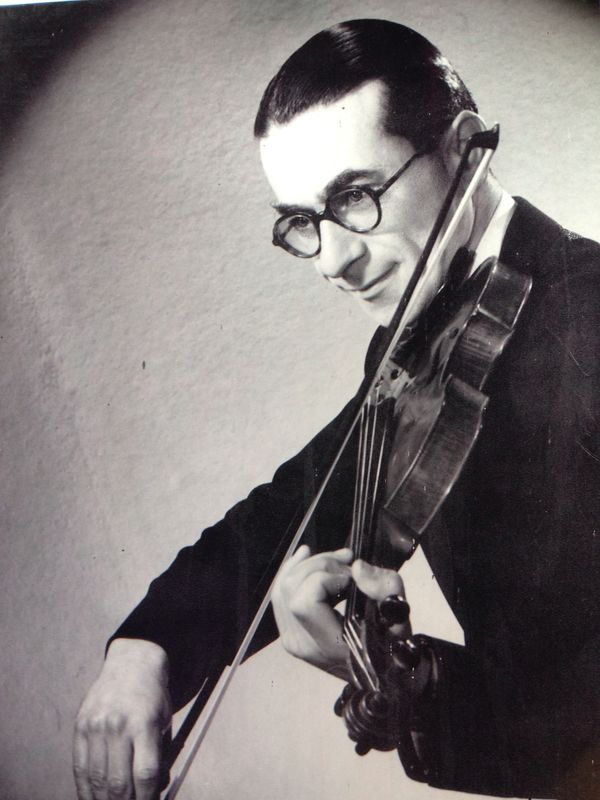 Dad would practice sometimes at home- I listened to him work out on bits of the Mendlessohn violin concerto, but more usually gypsy flourishes and the latest continental melodies requested by clients of the various venues he played in as he was more of a popular music player despite his classical training at the Royal College.  I was always intrigued by the sound of him tuning up the violin!  He played a lovely small size 18th Century Amati violin very sweetly and his case had a beautiful velvet inside cover lovingly embroidered by my Grandma. She had, with my Grandpa escaped persecution in Russia and arrived in the UK in 1904.  Her Dad – my great grandfather had been a professional gigging musician in the Ukraine. 
We had an old wind up gramophone with scratchy-sounding wax discs we wore out: classical stuff and jazz music from the 20s,30s and 40s.  Then came the electric autochanger player and my sister would bring modern stuff into the house during the 50s. I first listened to dads influences-mainly jazz 78rpm wax records of Louis Armstrong, Joe Venuti the virtuoso jazz violinist, Eddie Lang the guitarist and many others. Some classical stuff , and records he had recorded himself in his heyday before the 2nd world war when featured soloist in the Roy Fox Orchestra, a well known society and dance band during the 1930's. and after the war. 
When my sister Judy started bringing rock and roll records home, I was listening to Elvis Presley ripping it up with Hound Dog and his hits from the late 1950s, Buddy Holly and the Crickets, Fats Domino, Little Richard,  Larry Williams etc.  Having been a frustrated singer for most of her adult life, Jude was fiery individualist who followed her dream when she got the chance, and took lessons and developed into a well-liked Swing vocalist in the Cornwall area.  We finally got to play together for a while after she moved much nearer.  We had a lot of fun playing in later music collaborations. Later ill health stopped her beloved singing, but not her love of music.
I remember aged 8 playing what today I guess would be described as "air saxophone"  As I mimed along to the amazing solos of the fantastic tenor sax players in the bands of these big rock stars.  It was only later in life that I started taking lessons and playing the sax and clarinet inspired by them and the greats of Jazz. My first 78 record was Ken Mackintosh playing the American Highway Patrol Theme- unfortunately I wasn't familiar with 78 s and opened it the wrong way and it smashed on the ground before I could play it!  My lack of luck continued when possibly my next disc, the "Ying Tong Song" by the Goons (a great love and life influence) suffered being sat on by me and also broke! Thats probably the first and last time I broke any records!
I was grateful when plastic discs came along from a risk management point of view, as well as getting more music, less time changing records or sides and less crackle and surface noise.
GETTING DOWN TO IT
When the the Beatles and other groups started to be heard on radio Luxembourg and appear on TV shows I got hooked and started beating on anything I could along with them and other groups emerging at that time..  My first drum set was a combination of tin foil dishes, and homemade balsa wood sticks. 
Dad understandably didn't want me to learn music or to be a musician and struggle to support a family as he had, so whatever aptitude and passion I had came out unschooled, enthusiastic and mainly self taught. Dad eventually relented. Like the conscientious and sometimes generous dad he was, he helped me to get started financially with the kit. In the early 1960s he took me to the meeting place and open air labour exchange of Archer Street where jobbing musicians would meet and fix sessions or get work.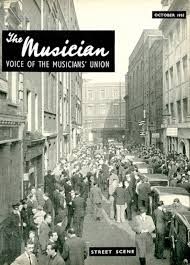 Image courtesy of Musicians Union
There was a wonderful little musicians drum shop called Len Hunt there, and after that visit I proudly owned a blue pearl premier snare drum.  After a while I acquired piece by piece the rest of the kit- bass drum, then tom toms. 
Cymbals came courtesy of another wonderful old haunt of muso drummers- Vic O Brien's – I can still see his his world-weary face and remember his attic space over a shop in New Oxford St.  I proudly bought a wonderful Zyldjian 20" ride there and he gave me an old 18" Zyldjian that looked like someone had bitten a chunk out of it!  Both of these as well as the Premier kit I still have today- they are wearing well despite my best efforts.  My set was finally completed when dad bought me a pair of Zyldjian 15 inch hi hats from the world famous Ivor Mairants Musicentre guitar shop off Oxford St. Ivor was an expert guitarist and educator and an old musician friend of Dad's from  Fox's Band and the Dance Band days so we got  a nice deal- the hats are still going strong today!
Although later in life, I was fortunate to have had a few lessons from mentors and heros, for a long time in the first part of my life, I took short cuts  and wanted to do it my way!  I guess I was even more stubborn and self centred then than I am now, Later in life I have become more disciplined and hopefully more humble and have learned from some of the best and been more diligent in practice.
INDIA AND THE ROAD TRIP
My journey and influences in music have been– both eclectic and varied…
Although my first love was and still is Jazz & improvised music, I became intrigued by and drawn to Indian Classical music when still at school.  Indian Culture and philosophy has played an important part in my journey ever since.
On leaving school having gone off the rails and dropped out of studies, I avoided university and hit the road for a year from 1967-68 with my travel soul mate Armand Cazaux a Frenchman I had met the year before in the bohemian streets of Paris. Subsequently we hitch hiked around Europe for a bit.
I picked up techniques & inspiration along the way. I could never figure out how the drummers
made all those sounds- the mystery was revealed when I started to learn and practice in Benares later during our road trip to India. 
On advice of a friend I went to get work with a Delhi Street Band doing weddings and so on.  They had a fantastic array of different instruments on show and I was overwhelmed and asked to play them all but without much success!  However when I finally showed them what I could do on the drums they hired me- but my new career as a street musician came to an unfulfilled halt when the very next morning that I was due to show up for a gig, I ended up in Delhi Hospital with what turned out to be a bad dose of infective hepatitis- which nearly caused me to leave this planet! 
I guess that is where my quest for self healing and alternative approaches to health and self care really kicked off- but more of that elsewhere on my site under the "Music and Healing" section of this website if I can get round to it and any of you are interested….
We finallly managed despite the challenges to get some time at Benares Hindu University to study a bit of music.
Armand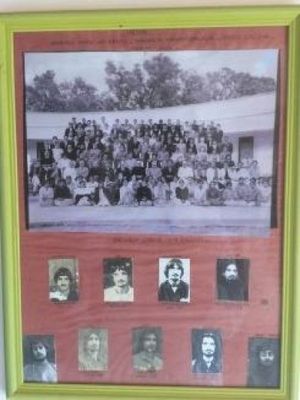 much more than I and when we decided it was time to come home, we laboriously transported his sitar overland from India in Buses and trains and on foot!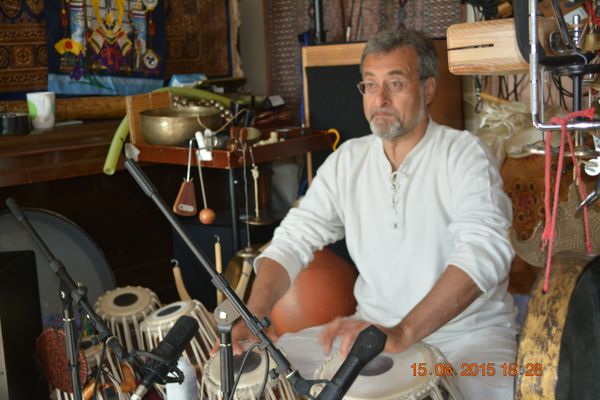 I GET TO PLAY WITH AND FOR PEOPLE!
On returning to the UK, my professional career began in the blues and rock bands of the late 1960s.
I had met a griselled and bearded Roger Bunn in Afghanistan- https://www.allmusic.com/artist/roger-bunn-mn0001614978/biography   We jammed together and hit it off.  I started playing on the backs of acoustic Guitars as I had no drums with me then. We busked a bit, got chucked into an Afghan Jail and I kept his details to look him up when I got back.  He invited me to join a band he was forming with his partner at the time, Diana and an American couple, close 4 part harmony, original material.  I played and hung out quite a bit with him and did various gigs, jams and close encounters!   He also introduced me to his lyricist John Mackie a poet on the Ladbroke Grove scene, who got me my first full time band gig- Shakey Vick's Chicago Blues Band. We toured the UK and abroad, and recorded a live LP at Mothers Club in Birmingham.  They were considered more authentic than many of the blues rock bands of the time. 
However I still pined for the freedom of expression that Jazz offered me.  That juxtaposition was made even more apparent when having met Lol Coxhill while he was busking outside the Festival Hall (where I had gone for an Indian Music concert), we rendez-vous-ed at Friars Club in Aylesbury and jammed for the audience in the interval at a Shakey Vick gig. It was exhilarating and memorable. Eventually I left the Band after about a year.
I got involved with Quintessence (the Raga Rock Jam Band) through their lead guitarist with whom I had jammed during lunch breaks when we were in the same school together. 
I jammed with some of the members over the years, recorded on their third album and did some touring with them and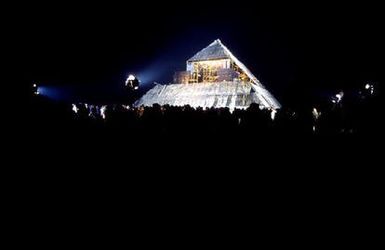 even did a guest appearance(me in furry hat on floor) on the pyramid stage at the second Glastonbury festival!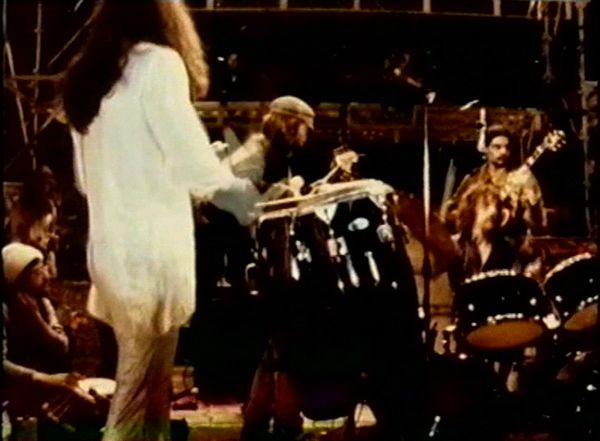 I did various recording sessions and gigs in the contemporary music of the time- in particular the "psychedelic inspired" folk scene.
Over the years, I have worked & recorded with many musicians on the Uk Singer/songwriter/folk scene, such as: US Artist Amory Kane, Tim Hollier, Andy Fernbach, Mick Softley, Mick Greenwood, Mick Taylor, Phil Pickett, Casey Synge as well as Jazz/crossover artists such as Roger Bunn, Lyn Dobson, Jonathon Coudrille A brilliant and eclectic musician/artist (still going strong in Cornwall today)  https://en.wikipedia.org/wiki/Jonathon_Coudrille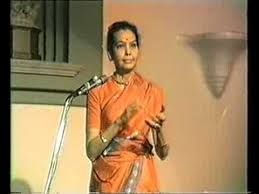 Keith Waithe the Carribean Flautist and in the 90s with Time and Again, an eclectic group formed by Vo Fletcher that included for a time Dave Swarbrick on violin.
I briefly studied tabla with Alla Rakha, one of Ravi Shankar's main accompanists. In the 1980s, I was a member of the troupe of Surya Kumari, the well known Indian Actress Singer and Bharata Natyam Dancer, playing South Indian Percussion (Mridangam) in various concerts over the years on the South Bank. Some of these included various guest musicians (both Indian and Western) and celebrities, including Larry Adler and Actor Ben Kingsley. 
                                                                                   https://en.wikipedia.org/wiki/Suryakumari
Meanwhile My eclectic approach and openness to the music of other cultures brought me to learn and play African, Middle Eastern, Latin American and traditional Irish percussion, while continuing to learn aspects of Indian drumming and music.  Studied Indian Shehnai (oboe) briefly with Qadir Darvish and Nunda Lal's son in Benares, I studied with and was inspired by Hossam Ramzy the Egyptian Tabla maestro, learned the Irish Bodhran, Flamenco Cajon and also studied Drums with Jazz Master Clark Tracey whose lineage and connection to the greats of UK and US Jazz I respect greatly, along with his impeccable musicianship and skill. Pre Covid had been studying with Simon Purcells Improvisation Classes for the Malvern Jazz Collective on Bass Clarinet and drums.

http://www.clarktracey.com/#/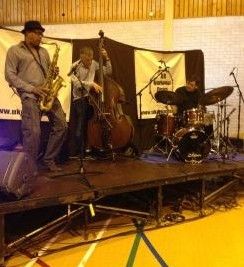 Over the course of my life, I have taken part in numerous cross-cultural collaborations and musical encounters both professionally and informally with a diverse collection of people such as Davy Graham, Raja Ram, John Barham, Julie Felix, Tim Wheater, Jon Harle, Jim McCarty (of Yardbirds and Rennaissance) Vo Fletcher, Dave Swarbrick, Peter Ind (the Jazz Bass legend), Louis Cennamo, Alan Wakeman , Bheki Mseleku,  Jo Clarkson a kirtan singer, who is a disciple of Baba Ram Dass and many others. I have also played gigs and recorded with the "New Age Music" group Stairway on their popular Instrumental Album "Medicine Dance".  We will be reissuing this album on Winged Heart later this year.
I have conducted educational Rhythm Workshops for many years in a variety of situations at conferences and events, and at one time did playshops called "Drumming and Dreaming" with Jim McCarty as co-presenter.
I continue to develop to try and develop my craft as well as playing tablas & percussion for Indian Kirtan Groups and Voice Workshops, such as Tribal Eyes. Most recently have played Tablas for Indian Dancer and Singer, Awantika Dubey and also with her husband Will Tooby at the Fold (a wonderful ethical eco centre and organic farm).
For the last 20 years or so I have been working in various Jazz environments and for the last 14 with the great Bassist and Composer Adrian Litvinoff.  He is always coming up with new stuff and ideas and is an accomplished and experienced music educator. When Adrian was forming his group Interplay over 13 years ago he invited me to occupy the Drum and percussion chair, which I have held ever since.  We have recorded 2 CDs and done many gigs mainly in the Midlands and the North.  Our recent Interplay collaborations for International Jazz Day have yielded memorable concerts with Claude Deppa, John Etheridge, Norma Winstone, and Annie Whitehead, during which I was privileged to play a duet with each of them each year.  This year's was an atmospheric and enjoyable tribute to Alice (and John) Coltrane with Harpist Alina Bzezhinska and the fantastic Sax player, Tony Kofi in May 2019. I am also in the group Touch of Jazz who gig locally (including a stint at the Fringe Upton Jazz Festival) and as such am the resident drummer for the Worcester Jazz Jam sessions. Just before lockdown, I started playing Gypsy Jazz for the first time with violinist James Burnham we are looking forward to getting back to this good time music soon!
RECORDINGS COMING OUT THIS YEAR

For the last 20 years I have been writing, engineering and recording my own material. I was aided in this originally by the talented Paulo Mellett we had a close musical relationship and friendship for some years before he went to university, but he recently died far too young at 35  some years back, before he could come back from his world travels to help me finish the project. There is more about Paul in the alumni section of this website.
I have been recording some sessions of duetting with one of my favourite reed players Alan Wakeman.  We may well put this out one day as a CD. Other instrumental encounters are in the pipeline for eventual release, one of which is a collaboration with the fine Sound Healer and musician Tim Wheater with others including Julia on cello and Paul White on guitar and electronics.
I continue working in Jazz or Improvised music settings and various collaborations with musicians from many different environments but mainly in jazz and other types of progressive/crossover/improvisation groups. I try to keep open hearted and humble- there are so many good musicians and so much good music out there! I am still striving to improve and develop on all levels- the journey never ends!  Thank you for reading this- any of you out there who are just starting out on your musical journey, I hope it brings you joy and fulfilment, just keep on keeping on it is a great blessing and gift to us all!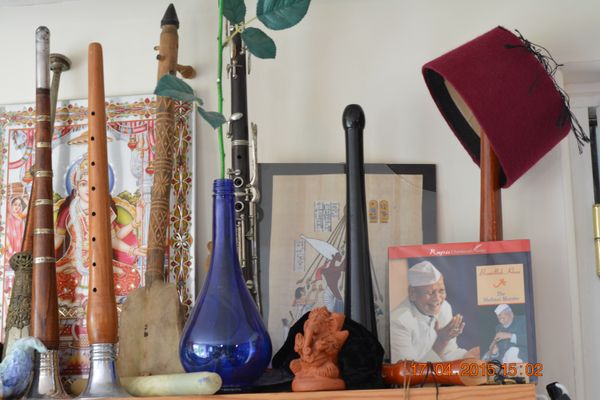 And.....Lest I forget!
Mini Discography from 1969 - Date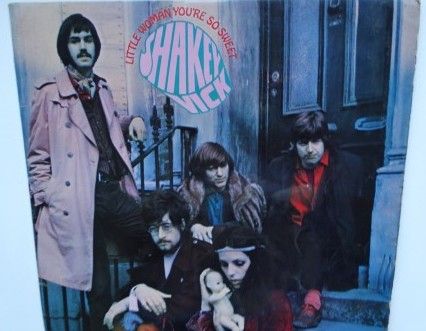 1. " Little Woman Your so Sweet"- Shakey Vick's Chicago Blues Band -                     
Published 1969  - PYE records 18276  -Producer : John Schroeder
Graham Vickery – Harmonica/Vocal,
Bruce Langsman-Lead Guitar,  
Ned (my nom de plume from the sixties - nicked from Ned Seagoon) Balen -Drums,
Nigel Tickler -Electric Bass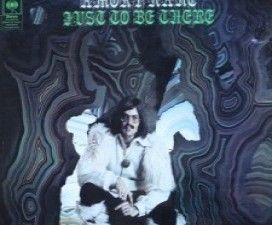 2.  Just to be There-  Amory Kane & Guests   1970- CBS Records 63849
Amory Kane- Vocals, Guitar, Dave Pegg- Bass Guitar, Ned Balen- Drums, Tablas and Percussion textures, plus various guests including Jonathon Coudrille  Produced by Tony Cox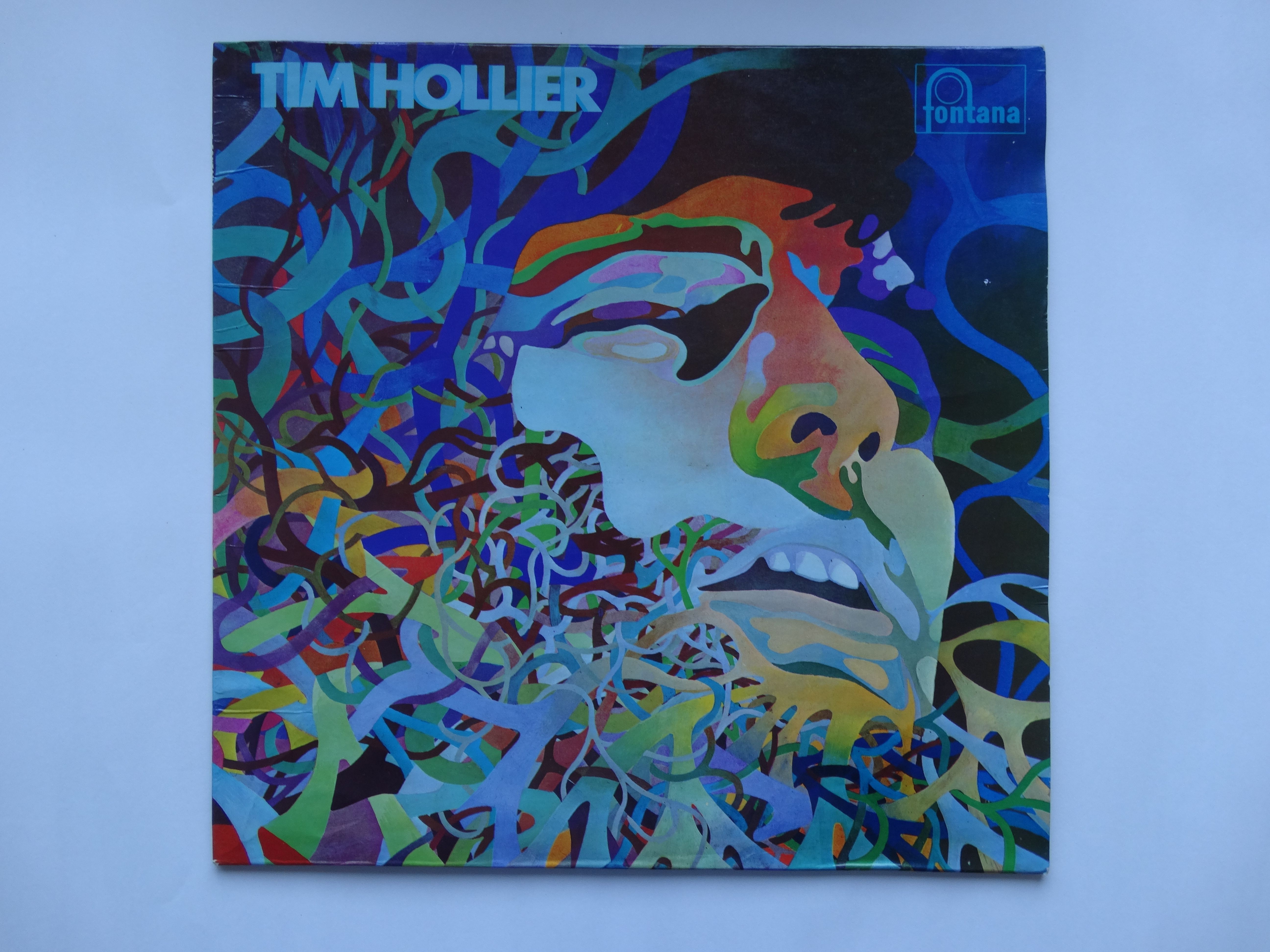 3.  Tim Hollier  
 Tim Hollier guitar and vocals and various guests, Fontana Records
DB Drums and percussion Produced by Tim Hollier
      1969  Fontana Records 6309003  1970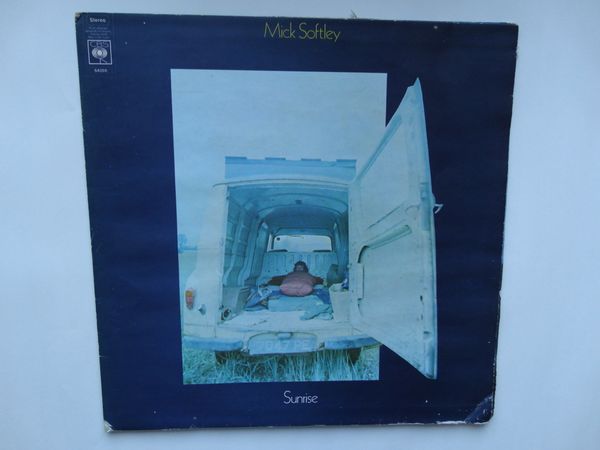 4.  Mick Softly  1970.  "Sunrise"   CBS Records 64098 Producer Tony Cox
      "Eagle"
     Mick Softley -Vocals Guitar, Lyn Dobson-Sitar Flute, Ned Balen- Tablas
     "Love Colours"
     Mick Softley -Vocals Guitar, Lyn Dobson -Sitar, Chris Lawrence-Double Bass,
     Ned B-Tablas, 
     Sue and Sunny Wheatman, Lesley Duncan, Gringo – Backing Vocals

5.  Mick Greenwood – The Living Game p 1971 CBS     Producer Tony Cox 
    "Sight" 
    Mick Greenwood- Vocals, Guitar, Lyn Dobson-Sitar, Flute, Ned Balen- Tablas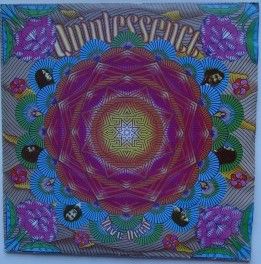 6.  Quintessence 1971  "Dive Deep"  Island Records ILPS 9143 Producer John Barham
      " Shri Ram Chant"
      Shiva Jones– Main Vocal, Vidya Bhanjee and others vocals, Raja Ram- Flute, Alan Mostert -Sitar,  
      Ned Balen- Shehnai and Tablas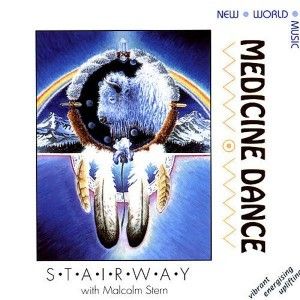 7.  Stairway "Medicine Dance"  New World records 1994
Jim McCarty Keys , Drums composer, Louie Cennamo Guitar 1992 and Bass Guitar, Dougald Brown Lead Gtr, Dave Balen Percussion and tablas, Danny Langsman Sax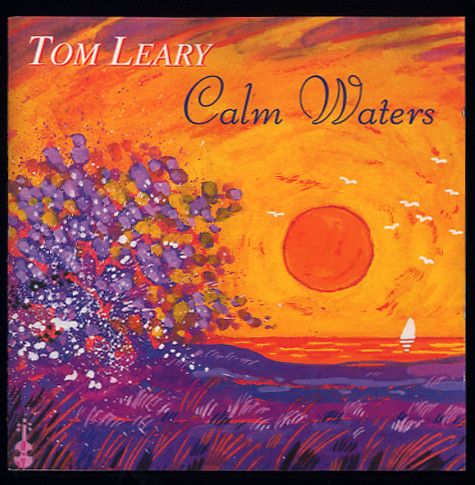 8.  Tom Leary "Calm Waters" 1992  Speaking Volumes SLVC 03
Koln Square
DB Tablas, Vo Fletcher Guitar and composer, Rachel Fletcher Oboe, Mike Burnham and Tom Leary Violins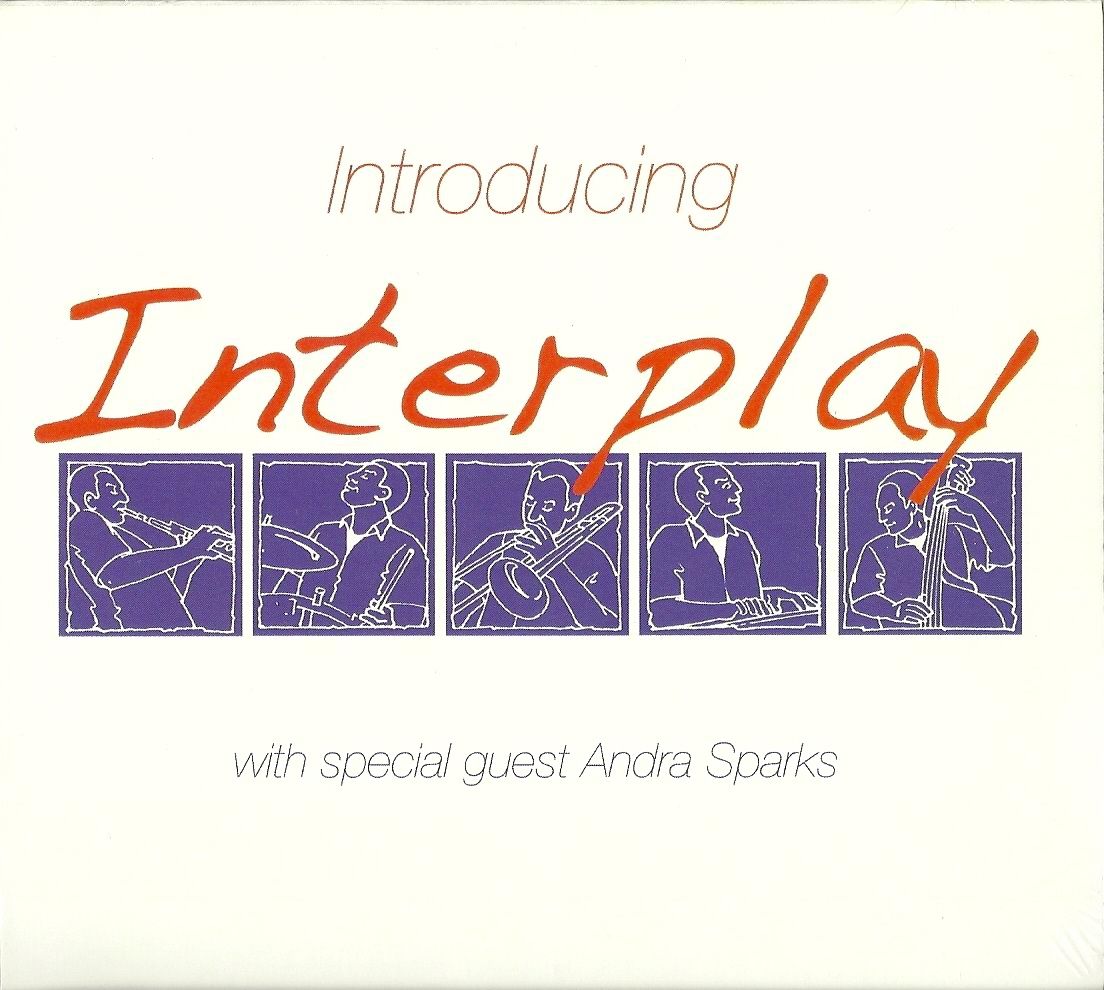 9.  Interplay – "Introducing "  2009  Silvery Records
Alan Wakeman Saxes, Flute, Richard Baker Trombone, Adrian Litvinoff Double and Electric Basses, Neil Hunter Keyboards, Andra Sparks, Vocals, DB- Drum Kit, Percussion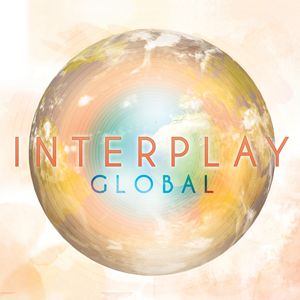 10.  Interplay- "Global"  2012  Silvery Records
Alan Wakeman Saxes, Flute, Richard Baker Trombone, Adrian Litvinoff Double and Electric Basses,Neil Hunter Keys, DB DrumKit, Tablas, Congas, Egyptian Tabla, Various Percussion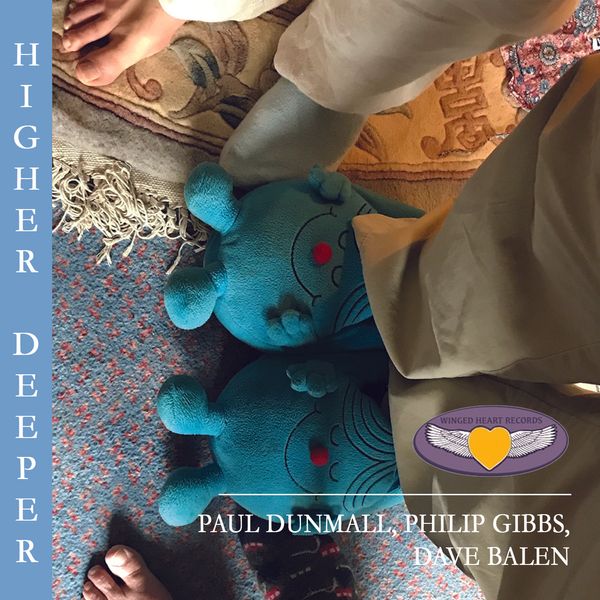 11.  Higher / Deeper  Winged Heart Records 2019
Improvisations by Paul Dunmall saxes flutes and bagpipes, Phillip Gibbs Guitar and prepared guitar, Dave Balen percussion, tablas, drum kit