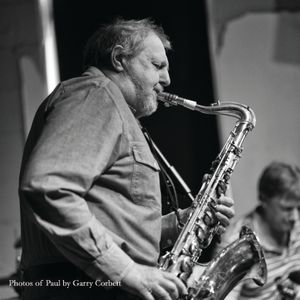 For forty years, Paul Dunmall has carved out a reputation for himself and is now widely recognised as one of the most uncompromising and talented reed players on the International jazz/improvised music scene.   Whether playing in small groups or big bands, his musical sensitivity and imagination combined with a powerful sound, make him one of the World's most distinctive improvisers playing today.
Paul started playing clarinet at the age of 12, studying classical work with Alfred Randall and Gerald Bodmer.   At the age of 14 he started playing saxophone with a few basic guidelines from jazz saxophonist Kathy Stobart.   Aged 17, Paul started his professional career with progressive rock group Marsupilami.   
In 1973 aged 19, he went to live in the USA where he played and toured for one year with blues legend Johnny Guitar Watson. 
In addition, he worked with many different ensembles including 3 months with pianist Alice Coltrane, the wife of the saxophone colossus John Coltrane. 
Returning to the UK in 1976, Paul worked with folk musicians Polly Bolton, Kevin Dempsey and Martin Jenkins.   In 1980, the modern jazz group Spirit Level was formed and toured Europe extensively for the next 10 years.   
During the 1980s, Paul joined the London Jazz Composers Orchestra.  
Formed Mujician with Keith Tippett, Paul Rogers, and Tony Levin; He also played in the jazz and folk band "Whatever".
In the 1990s Paul formed his own octet and played in various ad hoc ensembles, drawn from a large pool of improvising musicians from around the world who came together in various combinations for concerts and recordings. 
In 2000 Paul wrote a book of 60 studies for saxophone which has been widely acclaimed by Saxophonists in both the classical and jazz worlds, and also wrote a saxophone quartet piece which was performed in France and UK.
Since then Paul has continued his musical journey and quest with dedication and aplomb at the highest level.
"For range and intensity few contemporary artists in any idiom can hold a candle to Paul Dunmall"
Steve Lake ECM records
"In this country I rate him above anybody; He's a magnificent tenor player. What he doesn't know about it isn't worth knowing."   
Alan Skidmore (tenor saxophonist) quote from Jazz Journal
"I have personally witnessed audiences in the UK, France, Austria and the US mesmerized and spellbound by his skill, technique, imagination and seemingly endless ability to create great music on not just all of the saxophone family but clarinets, flutes, bagpipes and invented woodwinds too!! If anybody deserves the word virtuoso, it's Paul Dunmall"
Trevor Taylor FMR records
"Paul Dunmall can't be compared to the sax players we all have in mind because he's totally unique and he really has that voice of his own and what a voice it is!! On every one of his albums he sounds fresh, innovative and inspired, a true master as to technique and improvisation. Every musician who has played with him, be it on stage or in the studio, will tell you he has brought them to a higher spiritual and musical level. Even as a spectator and a listener at a concert, you will feel the positive power of Dunmall's playing and personality."
Danny Mathys Belgium
Alan Wakeman - Saxes, Flute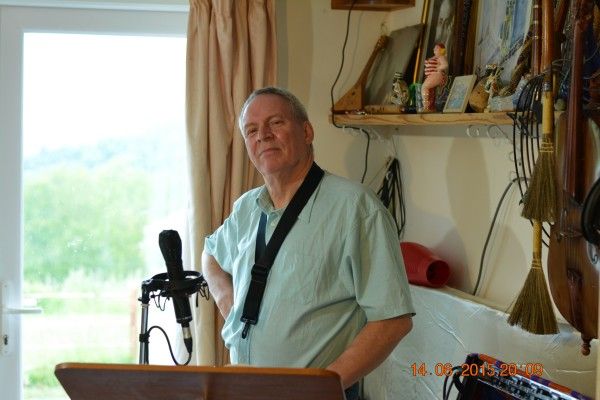 I have shared many musical forays with this kind and talented jazzman-a and enjoyed all of them.  A privilege and lots of fun.  He should be much better known than he is.
Alan was born in West London in 1947. He became interested in jazz during the British Trad Jazz boom of the early 1960s leading to him picking up the clarinet at age 14 (his cousin Rick Wakeman giving him his first lesson in his back garden). After playing for three months, Wakeman, together with Rick on piano - the 'only one who knew what he was doing,' put together Drayton Manor Grammar School's first jazz band.

After taking up the alto sax at 16, he got to know Mike Westbrook when the up and coming bandleader came to his school to teach art for a year. By then he had decided to become a professional musician and was having lessons with Charles Chapman (Joe Harriott, Ronnie Ross, Vic Ash, John Barnes, Barbara Thompson, John Williams and Pete Whyman being among the many pupils coming out of the 'Chapman Stable'). He left school at 18 to study clarinet at the London College of Music.

In 1966, Wakeman took up tenor sax, which became his main instrument along with the soprano.

At the age of 20, while playing in a working men's club every weekend with Cousin Rick, he became involved with the London jazz scene through his acquaintance with free jazz drummer Paul Lytton. They met when both were in the London Youth Jazz Orchestra (which Wakeman joined after he was heard by Pat Evans). He joined Lytton's quartet for six months, playing every Wednesday night at a club in Tottenham Court Road. Later he and the drummer formed various bands together, from duo to large line-ups. In 1970 they won the G.L.A.A Young Musicians Jazz Award.

His first broadcast for the BBC was in 1968 with The Dave Holdsworth Quartet – Paul Lytton on drums and Harry Miller on bass, and his own octet playing his own compositions in 1969 – Mike Osborne (alto sax) , Alan Skidmore and Wakeman (tenor saxes), Paul Nieman and Paul Rutherford (trombones), John Taylor (piano), Lindsay Cooper (bass) and Paul Lytton (drums).

After leading his own trio in 1970 (with Harry Miller on bass and Lytton on drums), he joined Graham Collier Music, replacing Stan Sulzmann. This lasted for two years and two albums, "Songs For My Father" and "Mosaics", featuring such contemporaries as Harry Beckett, Phil Lee and Geoff Castle. Prior to rejoining Mike Westbrook's band in late 1974, in 1973 he toured with John Dankworth. Wakeman's debut with Westbrook was on 1975's "Citadel/Room 615", and their collaboration continued with "Love Dream & Variations" (1975), "Bright As Fire" (1980), "The Paris Album" (1981) etc.

In 1975, Wakeman played briefly with pianist Brian Miller's group Impulse. It was then that he came to the attention of John Marshall, Soft Machine's drummer, who attended a gig by this band at the Chestnut's Club. Wakeman was considered as a possible replacement for the departing Allan Holdsworth, but it would be another year before he actually joined Soft Machine, stepping in for Mike Ratledge. He was also an original member of another 'Canterbury Music' group about this time, Alan Gowen's Gilgamesh, but left long before any recordings were made.

Meanwhile, he formed another trio with Nigel Tickler on bass and John Snow on drums.

Wakeman was in Soft Machine from February to July 1976. This line-up was documented on the "Softs" album, recorded during the spring of that year. He left when he was offered a retainer as a member of David Essex's band.

In 1978 together with drummer Nigel Morris and bassist Paul Bridge he founded the trio, Triton. He also wrote a suite for octet which was premiered at the 1979 Camden Jazz Festival.

Other collaborations in the 70's and 80's included Barry Guy's London Jazz Composers Orchestra, The Don Rendell Five, Michael Garrick Sextet, Harry Beckett Band, Stan Tracy Sextet, Henry Lowther's Quarternity and John Williams Baritone Band.

Since then, Wakeman has kept working, occasionally with Westbrook - notably the 'Off Abbey Road' band and more recently 'A Bigger Show' with The Uncommon Orchestra - while keeping busy with commercial work, West End Theatre, sessions, Pantomimes (and a great deal of teaching) and more recently with various jazz groups in and around Northampton where he now lives.  He has been a core member of Interplay since its inception 12 years ago.
He's currently a member of the music department at the following schools, Oundle, Stowe, Akeley and Corby Business Academy.
http://www.alanwakeman.com 
Jazz Discography
Graham Collier Music                            Songs for my Father, 1970
Graham Collier Music                            Mosaics, 1970
N.Y.J.O.                                                 National Youth Jazz Orchestra, 1971
London Jazz Composers Orchestra      Ode, 1972
Mike Westbrook Orchestra                   Citadel, Room 315, 1974
John Dankworth and his Orchestra       Movies 'n Me, 1974
Mike Westbrook Orchestra                    Love/Dream and Variations, 1976                      
Soft Machine                                          Softs, 1976                                          
Graham Collier Music                            New Conditions, 1976
Graham Collier Music                            The Day of the Dead, 1976
Triton (Wakeman, Bridge, Morris)        Wilderness of Glass, 1978
Don Rendell Nine                                   Earth Music, 1979
Don Rendell Five                                    Set 2, 1979
Mike Westbrook                                     Bright as Fire, 1980
Mike Westbrook                                     The Paris Album, 1981
Stan Tracey Sextet, (Featuring Tony Coe, Art Themen, Alan Wakeman)    The Crompton Suite, 1981
Mike Westbrook Band                            Off Abbey Road, 1989
Mike Westbrook Orchestra                     Bar Utopia, 1996
Mike Westbrook Brass Band                   The Complete Westbrook Blake, 1997
Mike Westbrook                                      The Orchestra of Smith's Academy, 1998
John Williiams                                          The Baritone Band, 2000
Don Rendell, (Featuring Alan Wakeman & Pete Saberton)   Touch Links of Gold, 2004
Elastic Jazz                                                Sketches of Britain, 2005
Interplay                                                    Global, 2013
The Rockin' Hams                                    Extended Play,   2014
Richard Baker Quintet                              Lunology, 2015
 Mike Westbrook (The Uncommon Orchestra)   A Bigger Show, 2016
 Harry Beckett                                       Still Happy, 2016
 Harry Miller                                          Different Times, Different Places Vol 2,   2016 
 Dave Holdsworth's New Brew              Wodgi, 2018
Mike Westbrook Orchestra                       Catania (Live in Sicily 1992), 2019
Interplay - Jazz and World Music Combo
I have been privileged to play, travel rehearse and laugh with these guys for well over a decade now
Here's some info from the Interplay website.   http://interplayjazz.co.uk/ .
"In our fast-moving world it can be hard to find something that has matured and developed over time. Interplay is a band that has taken that time, reaching its state of evolution through a journey of ten years. Interplay brings together the talents and experience of five fine musicians, fuelled by diverse musical influences, and focussed on performing original material to make it their own. Mainly penned by bassist Adrian Litvinoff, the tunes provide hugely varied settings for the band's invention and spontaneity.

Alan Wakeman, (saxes, flute), and Richard Baker (trombone) form a poised front line. Embracing very different styles they have evolved a close musical understanding. Neil Hunter (keyboard), Adrian Litvinoff (basses) and Dave Balen (drums, percussion) weave together all kinds of dynamics - assertive, fluid, spacious and energetic, as the music requires.

In recent years Interplay has hosted memorable concerts with guest artists including Claude Deppa, John Etheridge, Norma Winstone and Annie Whitehead. Gilles Peterson called their second album Global "a beautiful record".

Click here to hear our music