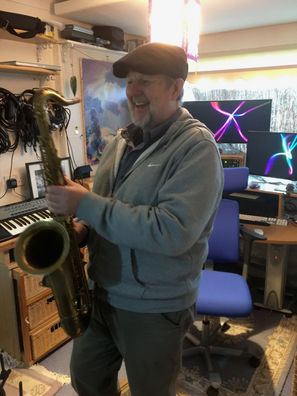 For forty years, Paul Dunmall has carved out a reputation for himself and is now widely recognised as one of the most uncompromising and talented reed players on the International jazz/improvised music scene.   Whether playing in small groups or big bands, his musical sensitivity and imagination combined with a powerful sound, make him one of the World's most distinctive improvisers playing today. 
Paul started playing clarinet at the age of 12, studying classical work with Alfred Randall and Gerald Bodmer.   At the age of 14 he started playing saxophone with a few basic guidelines from jazz saxophonist Kathy Stobart.   Aged 17, Paul started his professional career with progressive rock group Marsupilami.    In 1973 aged 19, he went to live in the USA where he played and toured for one year with blues legend Johnny Guitar Watson.  In addition, he worked with many different ensembles including 3 months with pianist Alice Coltrane, the wife of the saxophone colossus John Coltrane. 
Returning to the UK in 1976, Paul worked with folk musicians Polly Bolton, Kevin Dempsey and Martin Jenkins.   In 1980, the modern jazz group Spirit Level was formed and toured Europe extensively for the next 10 years.    
During the 1980s, Paul joined the LondonJazz Composers Orchestra.   
Formed Mujician with Keith Tippett, Paul Rogers, and Tony Levin; He 
Also played in the jazz and folk band "Whatever". 
In the 1990s Paul formed his own octet and played in various ad hoc ensembles, drawn from a large pool of improvising musicians from around the world who came together in various combinations for concerts and recordings.  
In 2000 Paul wrote a book of 60 studies for saxophone which has been widely acclaimed by Saxophonists in both the classical and jazz worlds, and also wrote a saxophone quartet piece which was performed in France and UK. 
Since then Paul has continued his musical journey and quest with dedication and aplomb at the highest level"
"For range and intensity few contemporary artists in any idiom can hold a candle to Paul Dunmall" 
Steve Lake ECM records
"In this country I rate him above anybody; He's a magnificent tenor player. What he doesn't know about it isn't worth knowing."   
Alan Skidmore (tenor saxophonist) quote from Jazz Journal
"I have personally witnessed audiences in the UK, France, Austria and the US mesmerized and spellbound by his skill, technique, imagination and seemingly endless ability to create great music on not just all of the saxophone family but clarinets, flutes, bagpipes and invented woodwinds too!! If anybody deserves the word virtuoso, it's Paul Dunmall"  
Trevor Taylor FMR records
"Paul Dunmall can't be compared to the sax players we all have in mind because he's totally unique and he really has that voice of his own and what a voice it is!! On every one of his albums he sounds fresh, innovative and inspired, a true master as to technique and improvisation. Every musician who has played with him, be it on stage or in the studio, will tell you he has brought them to a higher spiritual and musical level. Even as a spectator and a listener at a concert, you will feel the positive power of Dunmall's playing and personality."
Danny Mathys Belgium