A muso mate once introduced me at gigs as someone who plays "anything that you can scrape, shake, bang or hit!"
...and here is a little insight into some of the stuff I have played and collected over the years!
Drum Kit
It's hard to think that the modern Drum Kit has only really existed in its present form since the mid to late 1940s/1950s. It evolved some have said from left over instruments after the American Civil War and developed over time through the Jazz and Dance Band eras and was largely fully formed by the 1940s/50s, and the technology is still evolving!
Previously in various musical environments the bass drum, snare drum, cymbals clashing etc. were played by individual musicians, and in some cultures and of course military and some pipe bands that is still the case.
The way of playing kit has evolved alongside the evolution of the instrument so that the drummer has to use all his limbs in co-ordination or juxtaposition, to fill out the sound and provide a backdrop across a number of different levels of tonality and pitch.
There have been and are many pioneers, masters and role models over time, but for me it always goes back to the Modern Jazz players- these are the guys that continually pushed the boundaries of technical excellence and ideas and inspired many of the rock and pop players who followed in their wake.
I could name so many – worth exploring if you haven't heard these names before- Max Roach, Roy Haynes, Art Blakey, Elvin Jones, Tony Williams, Joe Morello, Shelly Manne, Buddy Rich, Gene Krupa, Louis Bellson, Alan Dawson, Pete Erskine, Jack De Johnette, the list goes on and on.  Swing band and small group drummers were influential and musical before these guys, jazz funk and rock drummers after them.  You can usually recognize the sound of most of these guys. 
A great help in moving me on were the lessons I had with Clark Tracey, not only the hints and feedback, but the way he is so plugged into the lineage of Modern Jazz Drumming through his late dad Stan, his mentor Bryan Spring who leaned from the great Philly Joe Jones who lived and taught for a short while in the UK.  His Jazz Drums Tutor Book is one of the best out there.
My improvisational style, which is still evolving, tends to be less about rudimental based playing and more about textures and combinations.  I have played in so many eclectic environments and there is so much choice and variety that inevitably it has rubbed off on me to produce a variety of styles rather than any one.  I tend to use a variety of sticks, mallets, brushes, and even hands and fingers with a small percussion rig alongside for extra effects and tonal colours, although I am trying to simplify what I do and take to gigs these days!
I generally prefer the sound of older drums with wood that has matured, and musical cymbals, I prefer calfskins to the ubiquitous plastic ones, although they can be harder work to play and get affected by the weather!
I have a large selection of cymbals from a variety of makes, they help express feel and emotion and different cymbals sound better with different instruments and style of music.  Most of my kits are Gretsch from a 1969 Lavender Sparkle with 20 and 22 inch bass drums, to a 1970s main kit based around 18 inch bass drums, with 10,12,13,14 and 16 inch toms in emerald green pearl to a natural wood recent Classic Kit 10/12/14/22 and snare.  I still have my 1960s Premier Blue Pearl and 1980s Pearl Natural wood kits in France. Mainly my cymbals are 1960s/70s A Zyldjian and latterly their recent Kerope range which are rich and controlled in sound.
Tablas
My love affair with Indian Drumming in general and the tablas in particular came from early listening in the beginning of the 60s borrowing records from the library while I was still at school.  The trip to India was small part escape from monotonous conventional atmospheres, big part music, culture and adventure both inside and outside of me.  I was going to learn Tablas, Armand was going to learn sitar, we both knew that we could enroll at Benares (now Varanasi) Hindu University.  Armand dutifully started classes; I undutifully dropped out after one boring class lesson from an uninterested teacher and curious students.  I picked up by asking students for information and exercises, practicing in our austere monastic one room- no loo no bathroom no sink no nothing (except night-time mosquitos whose carcasses decorated the bare walls).  We were very privileged to see some great concerts from masters of the music a number of which were put on for the university music students. 
Benares was and still is, a great centre of learning, spirituality and music- a pilgrim destination, the holy city- a magnet for the devout, the sick and the dying.  I was there in 2014 for an emotional return after 45 plus years,  but the past is the past and nostalgia get washed out by the present- nothing stays the same!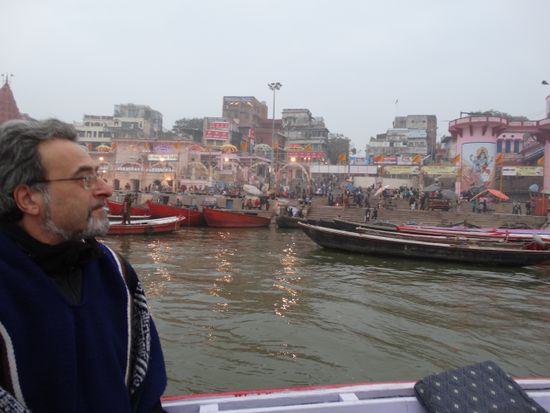 In the ancient narrow dirty back alleyways of the old town and bought a new Indian Oboe or shehnai.The owner of the music shop people I told me the scene for classical music and traditional values had shrunk- rather than stay in the family business as a musician, the youth wanted to become lawyers, doctors, - there was now more aspiration to move outside the tight family circle of endless generations of musical lineage and to earn a decent living.  The lineages themselves have blurred a lot at the edges with crossovers taking place, and of course more crossover between northern and southern Indian classical music's than ever there was.   Also the Indian Film industry both North and South have had a massive influence on the way music has gone over there. Its more popular than Classical Music.
 Many South Indian music groups feature tablas as second percussionist alongside the more traditional Mridangam.- this was unheard of previously.  I had a lesson when I was in Kerala in 2013, from a Woman tabla player, whose teacher (also a woman) was a disciple of Zakhir Hussein! Times have changed!
On listening back recently to some of the sessions I did and records I made as sideman in the 1960s/70s- most of them featured tablas and or percussion, more even than drum kit- it was an exotic sound people wanted on their music then. 
I was fortunate to have a few class lessons with the great guru of tabla Ustad Alla Rakha (and one of his sons)when he was over in the UK in the 1980s– a lifelong musical hero.  We met his family and were privileged to sit at his feet while he did a mind-blowing tabla solo for us in his daughter's living room.   I also managed to meet his illustrious and brilliant son Zakir Hussain doing a concert with an Oud player at the Oloron Jazz Festival near to our French home. Yet another display of virtuosity, flexibility and great musicianship. 

I was able to thank him for being such a lifetime inspiration. Lauded by the classical music elite, rockstar and cross over music specialist (eg Shakti with John Mc Loughlin and countless other environments) Being a bit awestruck, I nevertheless summoned up the courage to gave him a copy of Interplay's cd "Global", saying I was embarrassed but I played a bit of Tabla on the album.  He laughed and said he played bit of tabla too.  I first saw Zakhir in UK at Queen Elizabeth Hall with Ravi Shankar and at any age I would have been blown away but I think he was about 17 at the time!
I always remember seeing a concert in Benares given in honor of a clearly venerable and very old Tabla master who was reminiscing (I think because everything was spoken in Hindi) while he gently tapped the tablas.  He was over 90 but still playing!  I remember also thinking then and there that this was a lifetime thing – handy when you got too addled and knackered to carry around drum Kits, percussion and the kitchen sink- just pop a couple of drums in a bag and sit on the floor! Something you never stop learning, such is the depth and sophistication.
I have had many a jam session with fantastic musicians on tablas- the ones that maybe you will have heard of would include Davey Graham, the legendary guitarist, Mick Taylor just when he was about to join the Rolling Stones as guitarist, Dave Swarbrick the folk-rock fiddler, Peter Ind the majestic jazz bass legend, Lyn Dobson, one of the best Sax/Flautists of the UK 60s Jazz Scene, members of Quintessence- one of the happening bands of the psychedelic/Indian Jam Band era, Keith Waithe – the Caribbean flute maestro, Jim McCarty of Yardbirds fame, and Louis Cennamo a virtuoso bassist from the 60s 70s prog rock ers and of course Alan Wakeman – one of my current musical colleagues in Interplay – (we are working on a duet album at the moment), plus various Indian and Western musicians along the way from when I was playing with Surya Kumaris Dance Troup in the 1970s/80s.
One can dialogue with other musicians, make quicker twists and turns, keep cross rhythms going usually without putting off the soloist, and there are various different tones and combinations possible with the Tablas. These ancient (probably adapted from an older type of drum in the 15th Century) yet incredibly modern sounding drums  can be meditative and exciting.  I love them!
Mridangam
From being a tabla player, my musical horizons were again stretched when I depped for the lovely Keshav Sathe who was the Tabla player for the famous Indian Bharat Natyam Dancer and actress, Surya T Kumari.  Keshav became widely known from playing in the groundbreaking Uk Group-the Joe Harriot/John Mayer Indo Jazz Group. She liked what I did I guess, because she said that although she had a tabla player, if I could learn the South Indian Mridangam she would like me to join her group.  I did my best, latterly having some lessons with Drachin Theaker, who having become known as the drummer with Arthur Browns crazy world, turned to Indian Classical Music. He had a fine mathematical mind- which you really need for this kind of music at an advanced level.  I was privilege to play in many interesting concerts including the South Bank Theatres, Queen Elizabeth Hall and Purcell Room and elsewhere a number of times with some excellent Indian and other musicians, actors and dancers.  Surya had married an Englishman and in her later years lived in the UK after being known as a famous film actress and siren in the 50s and 60s.
Mridangam(above right)- a barrel shaped drum with two skins has an earthy jungley sound is heavy to lift and demanding to play-  quite transporting to hear. Some of the mridangam greats like Palghat Mani Iyer, Palghat Raghu, Ramabadran and Sivaraman were inspirational virtuosos and mental mathematicians, with a spark of creativity and intensity that could take my breath away.
Tavil (above left)- a heavy barrel shaped drum shorter than mridangam played with ivory or plastic covers on fingertips and a stick on left hand – used mainly in the temples or classical music to accompany nadaswaram the very  long oboe like instrument often played outside (they need to be- very loud!).
Indian Percussion
Of course India is known for its rhythmic subtlety and complexity, having a rich, and long history.  Too many to list here, but I have in my collection many of the key ones- Pakhawaj (North Indian version of Mridangam) Dholak (punjabi dance drum), Kanjeera (tambourine), Ghatam(clay Pot) Jaw Harp with its piercing nasal twang, Kartal (finger cymbals) harmonium, Naqqara (clay round drums for street music, temples and shenahi bands) Naal (folk Drum) Dhol (large Dholak used in Bhangra music and weighs a ton around your neck!) Bells. 
Middle Eastern Percussion
Egyptian Tabla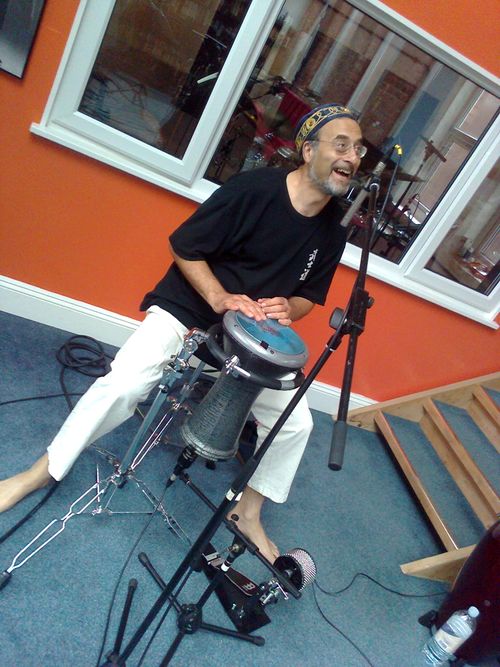 More like a darbouka, this hourglass shaped drum is traditionally made of glazed pottery with a fish skin head.  Modern ones are made of heavy aluminum and have plastic heads tunable and more convenient, but my teacher the great Hossam Ramzy taught us to make a skin heater out of a round sweetie tin perforated with holes and fixed with an electric bulb lamp holder inside- it really brings the sound back in the cold and wet weather.  Check out Hossams stuff-Hossam has made many records include stuff for Egyptian belly dance, and many collaborations including recently with Chick Corea and his project with mainly Spanish Jazz musicians (some favorites of mine like Jorge Pardo Sax/flute, Ruben Dantes-perc., and the amazing fretless bassist, Carles Benavent). He even played for a while in a project with the ex-Led Zeppelin Singer Robert Plant! Hossam started out playing drum kit but changed and learned his traditional percussion instruments and evolved to become a master of the instrument as well as other percussion.  I was once privileged to see him do an on the spot jam with an Iranian transvestite dancer who was giving a class at the same time as Hossam. He/She slunk in invited him to play! It was a memorable duet with sensual innuendo coupled with humour and genius! 
Bendhir- is a round frame drum mainly from Morocco, with a snare makes a wonderful sound
Riq – a Heavy decorated tambouring played more like a drum with the fingers
Darbouka – used more in Turkey and Iran, Armenia, etc. often these hourglass drums are often in aluminum with plastic Skins, but beautiful decorated pottery ones exist
Latin American Percussion
    Congas are often played in two/three or four combinations.   So many great players, so many styles. Long barrel drums with one head each and played with either the heel          of the hand, the fingertips, or slapped with the whole hand, enabling each hand to double up and getting a range of tones and combinations.
Bongos (why do so many people call the tablas bongos??) small hand pair of drums each with one head, higher pitched but with less sound variety- but will cut through anything!
Bass drums used esp. in Sambas to accent the one and three.
Maracas, cowbells, shakers, triangles, pandeiro (tambourine)
Timbales- metal pair of drums played with sticks and used to decorate accent and solo in an ensemble,
Claves often used to accent the clave or base rhythm pattern underlying LA music
African Percussion
Whew – the alleged cradle of music and civilization- the traditions and the range of musical colours and sounds goes on and on.  I first started listening to various ethnomusicologists like High Tracey's and his field recordings, and still have many ethno-music LPs and CDs in my library.  The different tribes and countries, so many different inspirations and flavours! A language in itself that plugs us into the ancient instinctual feelings that rhythm and dance may give us. 
Djembe (above) a goblet shaped drum from West Africa, Senegal etc., Pan Logo(below) a squat barrel drum from Nigeria etc., Drums of all shapes and sizes, Talking drums where you squeeze under your arm and the pitch changes, Log Drums made out of wood and played with mallets, xylophones, balaphons, shakers.
Gongs and other Percussion
I have always loved the feeling of gongs, finger cymbals, bells, and chimes, temple blocks, nature sounds, castanets, click-y things, shake-y things, rattle-y things, thuds and my  collection as you would expect by now after 50 years or so, is eclectic and varied. 
The Global reach is vast from West to East ranging from North/South America across through Europe, East Europe,Middle Eastern over to Tibetan, Indian, Burmese, S E Asian and Japan to western chime-y sounds. 
I use them for atmospherics and sound textures in various combinations.